Print
Prenatal Genetic Diagnostic
Are you in any doubt? Contact us
+ 34 91 659 22 98Contact Form
It is estimated that approximately 4% of newly borns have some kind of congenital defects. The most common risk factors, when having a child with these characteristics, are family health antecedents, to be over a certain age or having already had a child with an anomaly.
LabGenetics is specialized in Prenatal Genetic Diagnostic and offers the possibility of analyzing DNA from fetal cells, using techniques based on the PCR technology which are able to detect, in the fastest possible way, eventual congenital defects in the fetus during pregnancy.
Quick prenatal diagnostic of chromosomal aberration using qf-pcr
Characteristics of the service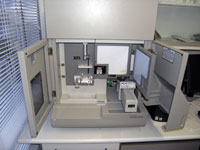 Fetal DNA research, analyzing STRs, using Quantitative Fluorescent PCR (QF-PCR) using a DNA sequencer (ABI® 310 Genetic Analyzer)
Detection in only 1 test of chromosomic numerical disorder or more frequent aneuploidies in humans:

Chromosome 21: Down Syndrome (Trisomy)
Chromosome 18: Edwards Syndrome (Trisomy)
Chromosome 13: Patau Syndrome (Trisomy)
Sexual Chromosomes X and Y:

Turner Syndrome: X0 (monosomy)
Klinefelter Syndrome: XXY
Other aneuploidies: XXX; XYY

Detects 70 to 80% of chromosomal aberrations that are the cause of congenital defects (99.8-99.9% in low risk pregnancy).
Maximum reliability with a small quantity sample:

Less than 1 ml of the amniotic liquid (no previous cell culture is needed)
Only 1 fetal drop of blood from the umbilical cord

Quality Guarantee:

Laboratory member of Spanish Association of Prenatal Diagnostic (AEDP)
In process of accreditation by ENAC according to the ISO 15189 standards

Results in 24 hours
Samples capable of being analyzed
Amniotic liquid (without previous culture) obtained using amniocentesis
Chorionic villus obtained using transcervical biopsy or abdominal punction
Fetal blood from umbilical cord obtained using cordocentesis
Abortion remains
The advantages of the QF-PCR technique against FISH
Smaller fetal sample volume needed:

Fundamental in early amniocentesis (beginning of first 3 months)
Reduction of abortion risk during amniocentesis

Increased sensitivity of the analysis
Maximum reliability, accuracy, reproducibility and consistency in the results.
Simplification and automatization of diagnostic procedures:
Cytogenetic Diagnostic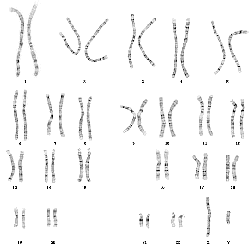 LabGenetics also offers a cytogenetic diagnostic service, in which the so-called complete cariotype, is able to analyze the chromosome number and the structure to detect possible anomalies, either numeric (aneuploidies: Trisomy, monosomy, etc) or structural (insertions, deletions and translocation).
In order to be able to do this research it is necessary to have a previous cell culture carried out, and for this reason the response time can vary between 2-3 weeks, depending on the kind of starting sample. In LabGenetics carry out the following cytogenetic researches:
Cariotype in Amniotic liquid
Cariotype in Chorionic villus
Cariotype in fetal blood
Cariotype in Abortion remains
Cariotype in peripheral blood
Cariotype in cultured fibroblasts (skin and others)
Hereditary deseases prenatal diagnostic
LabGenetics also offers the possibility of having prenatal genetic screening of hereditary diseases done when the parents are known carriers, diagnosed or sick ones.
LabGenetics analyzes DNA of fetal cells using techniques based on the PCR technology to identify the alterations (mutations) in the DNA sequences which are related with a disease or the increment of risk of developing a disease.
Our laboratory is specialized in diagnosis of a good number of hereditary diseases the most repercussions and/or worse prognosis. For this reason, LabGenetics uses the most advanced technology combined with various different techniques:
PCR and fluorescent detection in a DNA sequencer
Enlarge and direct sequence of involved genes
Detection of multiple mutations using SNaPshot technology
Detection of punctual mutations using ARMS technology
Analysis of Microsatellite Instability using TP-PCR technology
You can check our genetic disorders catalog here